Online lecture about how to write and publish academic articles – the lecture will be in English by Sage Publishing
Updated on 05/05/2020 - 16:55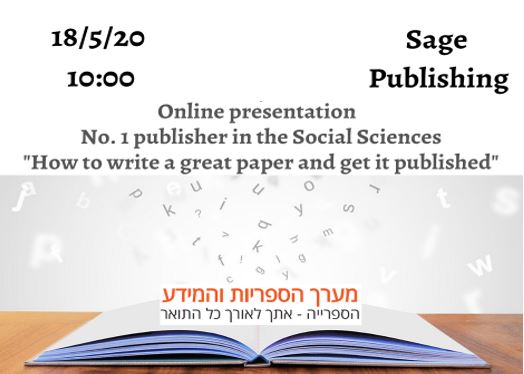 In light of our previous success we would like to inform you of our next online meeting by one of the leading publishers in Social Sciences – Sage Publishing. https://journals.sagepub.com The topic will be about writing and publishing academic articles.
The lecture will take place on May 18th, 2020 between 9:45-12:00 and is intended for students and researchers from the social sciences, related areas, and anyone else who is interested in the topic.
The following subjects will be discussed:
What factors affect your chances of having your article published

How to ensure that the article meets the required quality

How to find the correct journal

How to prepare the article for publication
No prior knowledge is needed, but we recommend that you check the introduction webpage at the link below
https://uk.sagepub.com/en-gb/eur/how-to-get-published
Participation is free, but pre-registration is required here
The link to the lecture will be sent 48 hours prior to the meeting, therefore be sure to enter your correct email address.